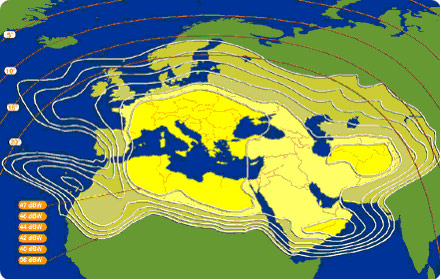 AMS offering KU-Band services on W6 Europe and Middle East Beam.
Currently AMS has dedicated this satellite for DVB and SCPC services.
Located at 21.5° East, W6 is ideal for companies needing to communicate between Europe, North Africa, the Sahara, the Middle East and the Gulf region. Fine-tuned for professional communications, the satellite is perfect for applications such as VSAT networks, broadband Internet and data broadcasting.
W6 DVB-S2 settings
Satellite location: 21.5E
Transponder C
Frequency: 11345 MHz
Symbol Rate: 29992 Ksymbols/sec
Modulation: 8PSK
Polarization: Horizontal
FEC: 5/6